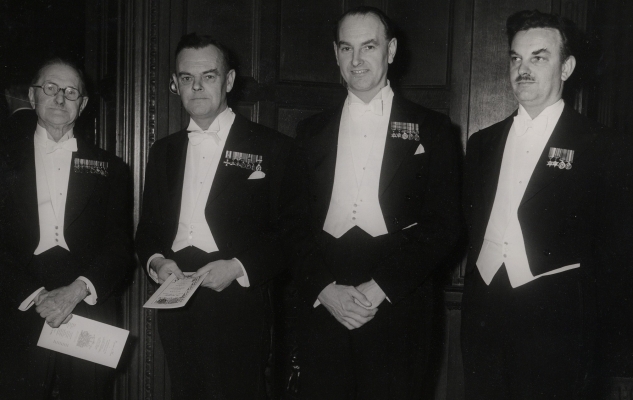 Anthony James Young with his father and brothers, at a livery company dinner in the 1970's when Tony was Master:
Left to right: Henry Jerrold Young (Tookie), Henry Joseph Young (Jo) , Anthony James Young (Tony) Edward Jerrold Young (Eddie).

The Memoir below was contributed by Tony Young's nephew, Mike Young:

Tookie joined the volunteers as soon as he was old enough and we know that by the summer of 1902 he was a Lance Corporal in a Volunteer Battalion, which became a Territorial battalion of the Essex Regiment when the TA was formed in 1908. He was commissioned in 1914. Being familiar with the terrain, the battalion was selected to guard the Essex coastline against invasion for the first half of the war, and Tookie only went abroad at the end of 1917, first to the Ypres sector and then to the Somme, where he was in the battles of the Spring Offensive and the battles of the Hindenburg line. He came out of retirement in 1940 to be 2nd-in-command of a Young Soldiers battalion of the Essex Regiment, until they were disbanded at the end of 1942, by when he was 58.

Jo joined the TA in 1932 (the HAC in London) and was commissioned into the 4th battalion of the Essex Regiment in 1937. He was abroad with the 4th Essex from 1940 to 1943, firstly in West Africa and then in the 8th Army in North Africa. He was battalion adjutant for almost all of the N Africa campaign, was Mentioned in Despatches at the Battle of Alamein and awarded the Military Cross at the Battle of Djebel Garci, Tunisia, in April 1943. He returned to England in late 1943 to go to the Staff College and commanded one of the D-Day departure garrisons, I think near Portsmouth. He commanded the 4th Essex from 1952-54.

Tony also joined the HAC as a territorial in the mid-30s and was later commissioned into the Royal Artillery. He served in India, including on the NW Frontier.

Eddie also joined the Essex Regiment from where he volunteered for the Parachute Regiment but was injured in a practice jump. On recovery he was commissioned into the Gurkhas and served in India. The war ended before he saw any action.

All of them were good shots. Tookie was officiating at Bisley until well into his 80s; Jo shot for the Territorial Army team and Eddie led a specialist pistol shooting training unit in India. My son Roland seems to have inherited the gene and was Captain of the Cambridge University shooting team in his final year.


Back to:
Family Trees
Jerrold rededication
Links Page
Home Page
Silent People
A Case of Wild Justice?